hidden.locationBanner - node /sites/retail/contents/stores/united-states/georgia/atlanta-inmanpark
Atlanta-Inman Park
Monday: 1:00pm - 10:00pm
Tuesday: 1:00pm - 10:00pm
Wednesday: 1:00pm - 10:00pm
Thursday: 1:00pm - 10:00pm
Friday: 1:00pm - 11:00pm
Saturday: 1:00pm - 11:00pm
Sunday: 1:00pm - 10:00pm
312 N. Highland Ave
Suite B
Atlanta, GA 30307
Atlanta - Inman Park Ice Cream Shop
Welcome to Ben & Jerry's Atlanta! Our locally owned ice cream shop, located in Inman Park near downtown and midtown Atlanta, GA, is open for Take Out and Delivery! You are also welcome to come enjoy your treat in our amazing outdoor courtyard.
Check out our menu and order ahead online
for pick up at our store!
We are just steps away from some of your favorite restaurants and neighborhoods. We offer a wide variety of Ben & Jerry's flavors and cater to various dietary needs by offering non-dairy, vegan, and light options.
If you are unable to come in and are craving some of your favorite Ben & Jerry's Ice Cream, Frozen Yogurt and/or and ice cream cake, have it delivered to your doorstep through
EZ Cater
,
Ubereats
,
Doordash
or
Grubhub
.
Also, don't forget, we offer
ice cream catering
and
custom ice cream cakes
for all types of events. Inquire today!
Nearly half a million children in Metro Atlanta live in communities with low or very low child well-being. One of our missions is to recruit volunteers to become mentors to children facing adversity. We'd like to serve more children and increase positive outcomes by matching them with an adult who will ignite their full potential. Come out and support Big Brothers Big Sisters of Metro Atlanta by purchasing our seasonal Caramel Apple Shake.
Our Services
Ice Cream Catering
Office party coming up? Lobby event in your office building? Birthday party? Even a wedding? Aren't you bored with the same old same old taco bar or tired sheet cake? Ben & Jerry's Ice Cream Catering specializes in serving your favorite flavors in cups, cones, and sundaes to turn your next gathering into an ice cream extravaganza. We show up and do it all—all you do is eat ice cream and party on.
Ice Cream Cakes
We have an ice cream cake for every occasion! Our fans love them for office parties, Mother's Day, Father's Day, Valentine's Day, graduation parties, and birthdays! Choose a ready-to-go ice cream cake for the spur of the moment party or create a custom cake that can be as unique in flavor and design as your occasion.
Ice Cream Delivery
Thank you for ordering delivery from Ben & Jerry's via GrubHub. Please give us a call with any updates or questions.
Ben & Jerry's at Inman Park Atlanta,
T | 877.600.6522 Ext 105
Ice Cream Take Out
Thank you for ordering take out from Ben & Jerry's Inman Park, Atlanta. Please give us a call with any updates or questions.
Ben & Jerry's at Inman Park Atlanta,
T | 877.600.6522 Ext 105
Local Scoop Shop News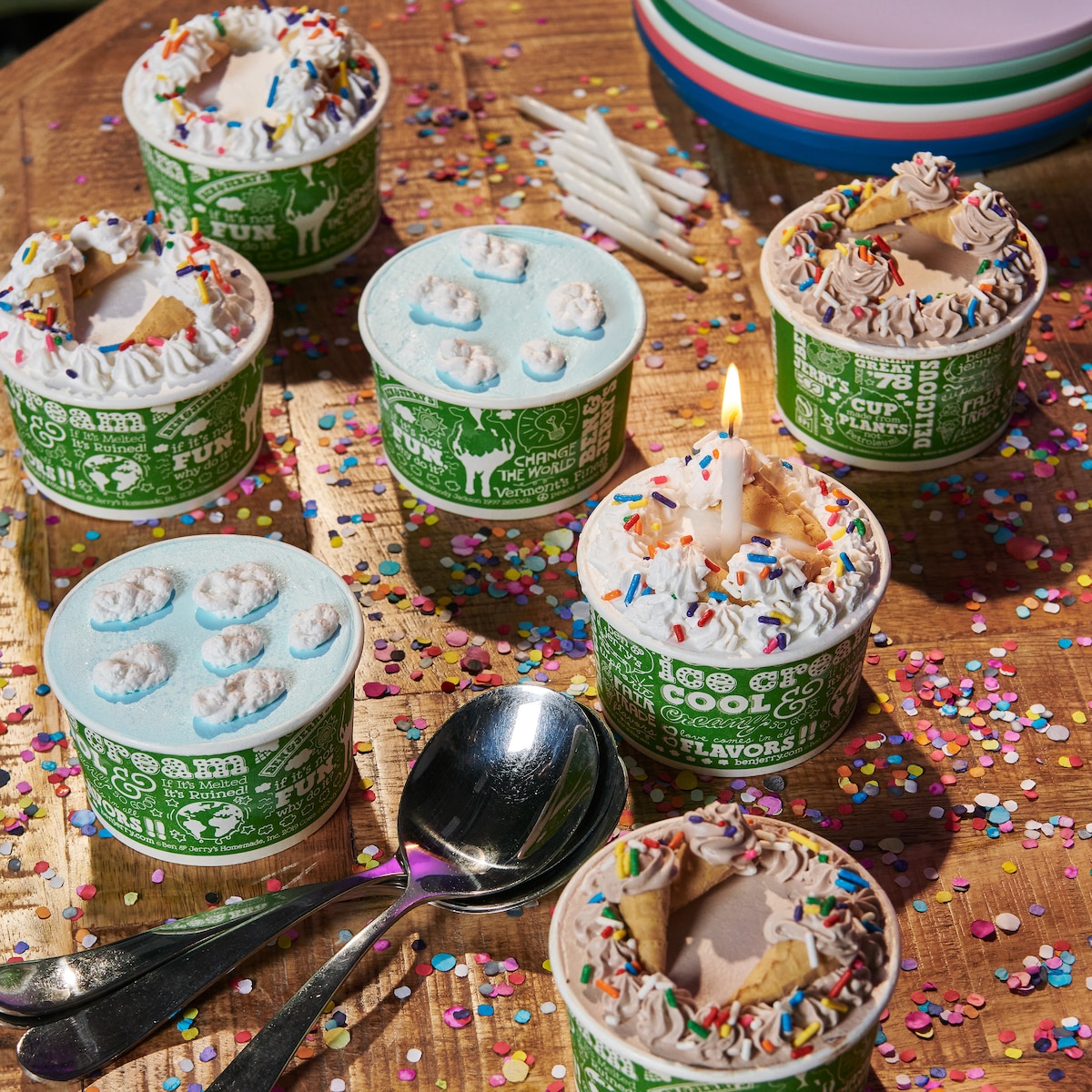 Ice Cream Parties To Go
Hosting a smaller gathering? Check out our small party pickup options.