hidden.locationBanner - node /sites/retail/contents/stores/united-states/vermont/burlington
Burlington
Monday: 12:00pm - 9:00pm
Tuesday: 12:00pm - 9:00pm
Wednesday: 12:00pm - 9:00pm
Thursday: 12:00pm - 9:00pm
Friday: 11:00am - 10:00pm
Saturday: 11:00am - 10:00pm
Sunday: 11:00am - 10:00pm
36 Church Street
Burlington, VT 05401
Burlington Vermont Ice Cream Shop
Want to have your Ben & Jerry's ice cream the way it was originally intended? Head to our Church Street Marketplace ice cream shop in downtown Burlington just block from Burlington Waterfront Park and dig into any of our euphoric ice cream flavors in the way the first scoops were served up by Ben and Jerry around the corner back in 1978. Come enjoy a freshly baked waffle cone, shake or sundae with your favorite flavor. We also make delicious custom ice cream cakes for any occasion, ice cream parties to-go, and we offer ice cream catering - where we bring the scoop shop experience to your office party, wedding or special event - anywhere in Burlington, Chittenden County and across Northern Vermont!
Our Services
Ice Cream Catering
Office party coming up? Lobby event in your office building? Birthday party? Even a wedding? Aren't you bored with the same old same old taco bar or tired sheet cake? Ben & Jerry's Ice Cream Catering specializes in serving your favorite flavors in cups, cones, and sundaes to turn your next gathering into an ice cream extravaganza. We show up and do it all—all you do is eat ice cream and party on.
Ice Cream Cakes
We have an ice cream cake for every occasion! Our fans love them for office parties, Mother's Day, Father's Day, Valentine's Day, graduation parties, and birthdays! Choose a ready-to-go ice cream cake for the spur of the moment party or create a custom cake that can be as unique in flavor and design as your occasion.
Ice Cream Delivery
Want Ben & Jerry's ice cream delivered to your Burlington, Vermont doorstep? We have pints, scoops, party packs, Dough Chunks and more. Check out our menu and delivery details!
Ice Cream Take Out
Order your flavor faves for take out online for pick up at the shop. Check out our menu to get your order started.
Local Scoop Shop News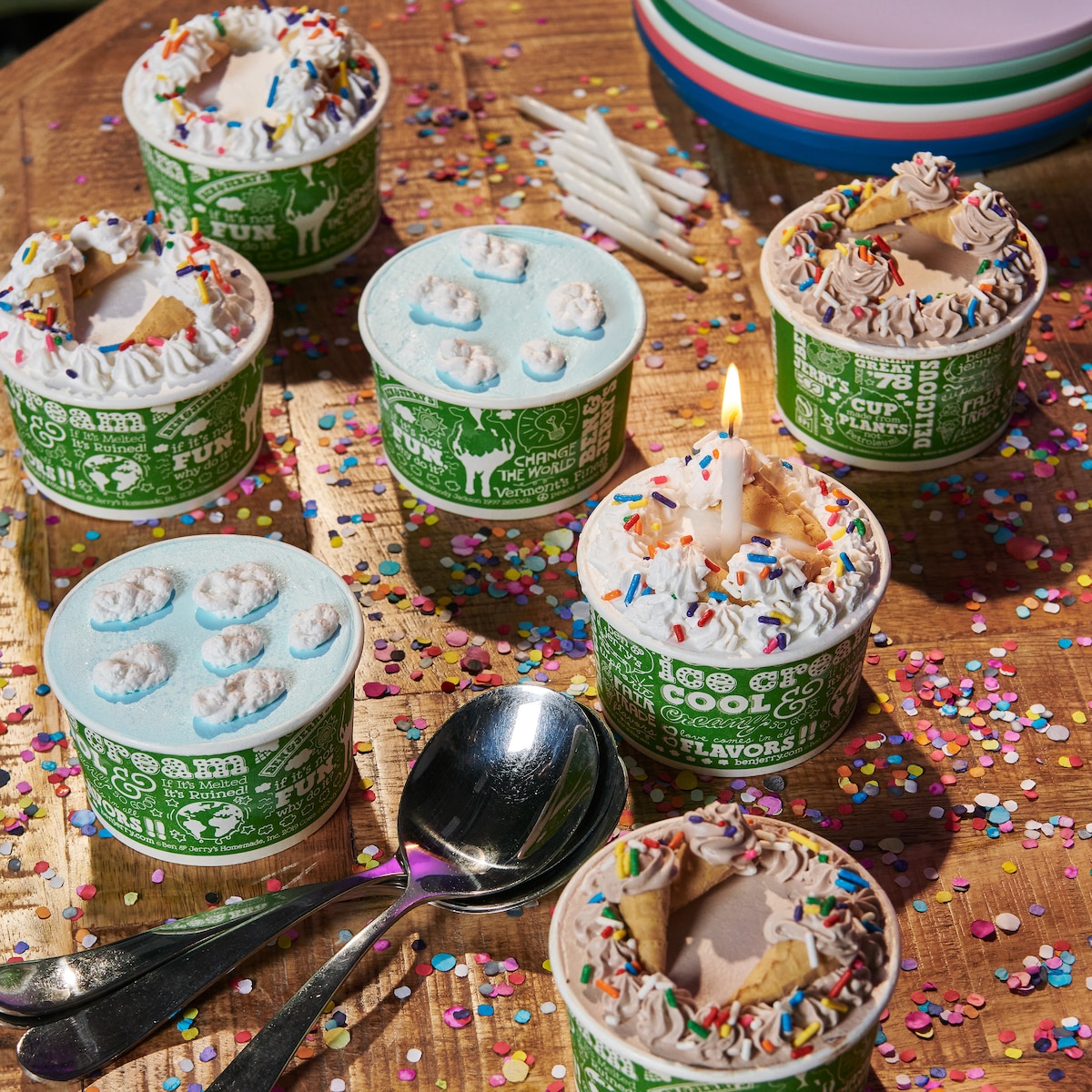 Ice Cream Parties To Go
Hosting a smaller gathering? Check out our small party pickup options.