hidden.locationBanner - node /sites/retail/contents/stores/united-states/massachusetts/greater-boston-massachusetts
Greater Boston Massachusetts Catering
Monday: 8:00am - 7:00pm
Tuesday: 8:00am - 7:00pm
Wednesday: 8:00am - 7:00pm
Thursday: 8:00am - 7:00pm
Friday: 8:00am - 7:00pm
Saturday: 8:00am - 7:00pm
Sunday: 8:00am - 7:00pm
Ice Cream Catering in Greater Boston & Eastern MA
Choose Ben & Jerry's Ice Cream Catering for your next event in the Greater Boston area. With scoop shops in Braintree, Cambridge, Marlborough, Natick and Needham, we service all of eastern MA including towns north of Burlington and Woburn, west of Franklin and Worcester, and south of Westwood and Braintree.

We offer two party packages: Sundae and Cup or Cone. Our traditional catering set-up is a branded tabletop configuration. For an additional fee we do offer ice cream trucks for larger events.

With a Sundae Party, you choose your four favorite Ben & Jerry's flavors and 4 dry toppings. We scoop two scoops of ice cream into a bowl and add hot fudge/caramel and whipped cream. Your guests then add their own dry toppings. (Not available from an ice cream truck.)

With a Cup or Cone Party you choose your four favorite Ben & Jerry's flavors. We scoop two scoops of ice cream into a cup or waffle cone and add chocolate or rainbow sprinkles.

Yes, both party packages are as fun and yummy as they sound!

Catering Minimum: 75-people plus Travel Fee, 7% Sales Tax and 10% Gratuity.
Our Services
Ice Cream Catering
Office party coming up? Lobby event in your office building? Birthday party? Even a wedding? Aren't you bored with the same old same old taco bar or tired sheet cake? Ben & Jerry's Ice Cream Catering specializes in serving your favorite flavors in cups, cones, and sundaes to turn your next gathering into an ice cream extravaganza. We show up and do it all—all you do is eat ice cream and party on.
Local Scoop Shop News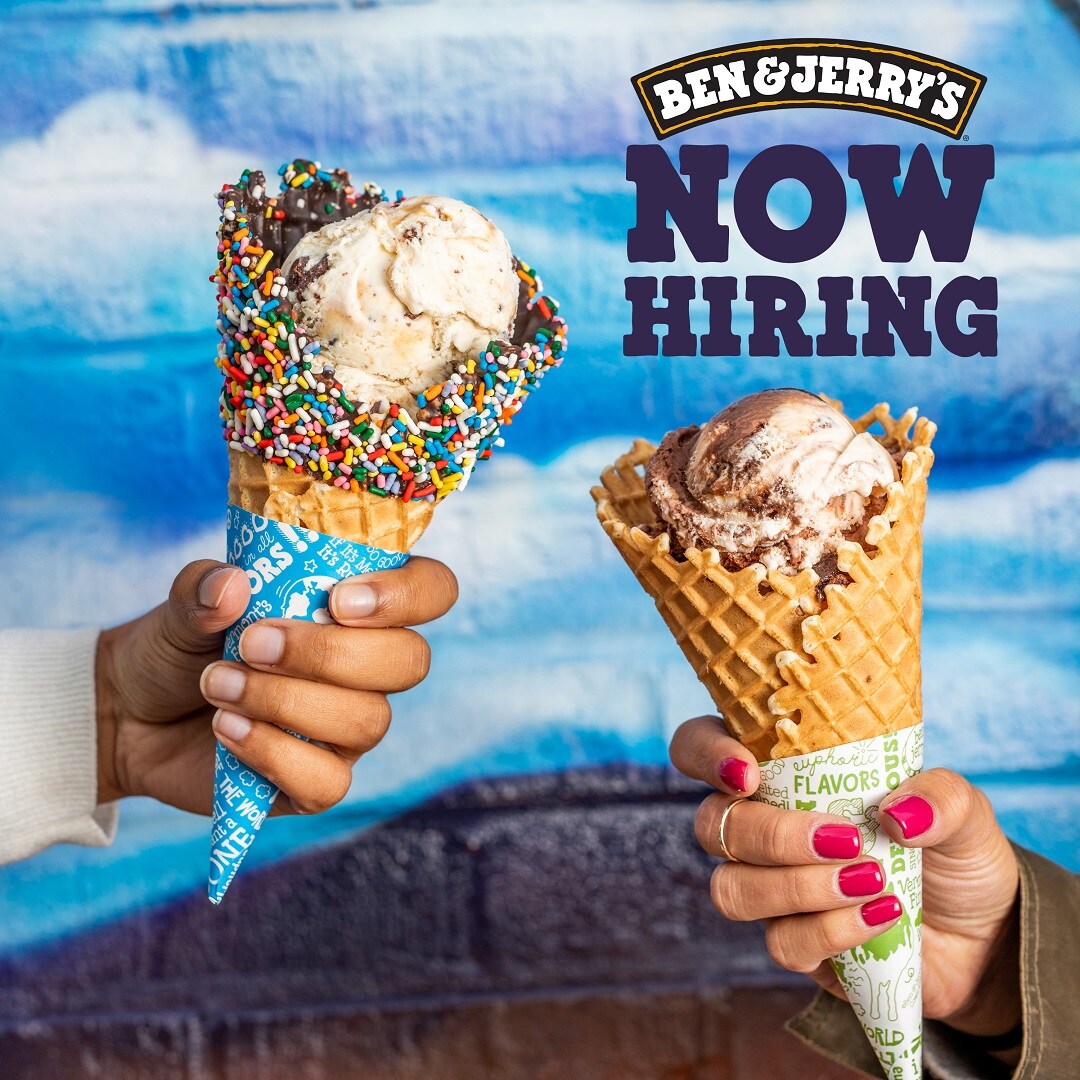 We're Hiring!
We're always looking for great people. If you are interested in joining the fun, please fill out the attached Job Application, and drop it off at the Shop, e-mail it to jobs@benjerrynatick.com or fax it to 617-206-9514.
Top 5 Reasons to Work at Ben & Jerry's:
It's a financially rewarding place to work! We guarantee a minimum of $18/hour, with an opportunity to make a lot more.
You'll be part of the high-energy, never boring workplace that's unique to Ben & Jerry's.
We've got a simple dress code with new and highly collectible Ben & Jerry's t-shirts.
It's literally a fulfilling place to work. You'll get to eat what you sell.
You'll be proud to be part of a progressive business that gives back to the community.